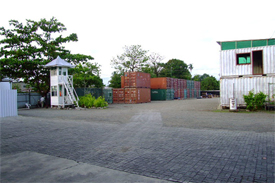 Homestate Co-Operation Limited.
It is a Thai owned company where all of its rice is cultivated, milled and supplied to many countries around the world from Thailand. The company was registered and incorporated in Papua New Guinea under the companies Act of 1977 on the 11th April 2000.The Company number is 1-37991. It was certified again as a Foreign Enterprise on the 11th August 2006 in Papua New Guinea and the certificate number is 91134.

We have established in Papua New Guinea and has four offices nationwide which includes;

Head Office:
P.O. BOX 1293, LAE, MOROBE PROVINCE
TEL: (675) 472 4011
FAX: (675) 472 4019
E-mail: homestate_png@hotmail.com
POM Branch:
P.O. BOX 791, WAIGANI, NCD
TEL.: (675) 325 9655, 325 7656
FAX. (675) 325 8655
E-mail : homestate_pom@hotmail.com
Mt. Hagen Branch:
P.O. BOX 339, HAGEN, W.H.P
TEL: (675) 542 1288
FAX: 542 1899
E-mail: homestate_hagen@hotmail.com
Rabaul Branch:
P.O. BOX , Rabaul, E.N.B
TEL: -
FAX: -
E-mail : homestate_rabaul@hotmail.com
Alotau Branch:
P.O. BOX 812, ALOTAU, MILNE BAY Province
TEL: (675) 641 1916
FAX: -
E-mail: homestate_alotau@hotmail.com
Since its inception in Papua New Guinea, the Company has grown very rapidly which has more than 100 customers. Some of the customers includes; Seeto Kui group of Companies, Raumai 18 Ltd, Pelgen, Andersons group, SVS, RH Trading, Vanimo Supermarket, Tropicana, Spirit of Kokopo, New Century, etc.

We are the top quality rice importer and distributor in Papua New Guinea and by maintaining that economically, we penetrate the market. The Company foresees to gain a fair share of the market in the near future.