PS FOAM (Polystylene Foam)

PS (Polystyrene) resin can be used to create light weight and affordable products. Its insulating properties make it ideal for both hot and cold food. Because it is easily formed, PS is used for thermoforming a wide variety of shapes for food packaging. Being light weight, PS helps reduce plastic consumption, hence reducing plastic waste.
Characteristics: PS is suitable for both hot and cold food within -20°C to 80°C (-4°F to 176°F). However, it is non-microwavable and not suitable for fried food.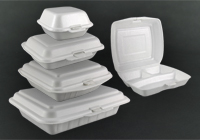 OUR PACKAGES